Service Returns - Fast or slow?
​Keep your returns low over the net if your intention is to drive the ball to the baseline. Just remember the quicker they get it faster you may be receiving as well. In general, the lower over the net you place your shots, the less angle your opponent can use and the harder it is for him/her to hit it with power, if that is there 3rd shot intention rather than a drop shot. Now think of this... IF you hit it hard to them and rush the net, they have a choice. They can drop to get to the net themselves or as you are rushing to match your partners position they can lob you and push you back. Hmm! Now what do you do?
The alternative to this rule is if you use a lofty lob return and you will want to place the ball as close to the end line of the court as possible. If you are slow getting to the net after a service return your best set up to get there would be this slower paced lob second shot return. They have to wait so why not give them time to do so.
Serving Tips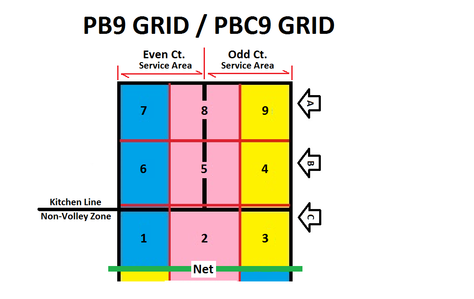 Serving tips for a traditional serving motion.
Have a routine and clear your mind before each service.
Look and visual your target and ball placement target.
Make the center or back 1/3 of the serving box your target point. This would the division lines between the red and blue colored area or the red and yellow zones of the PB9 Grid teaching System.(see diagram below)
Set your feet with your non-paddle foot stepping forward first or in a staggered step position with weight transfer from back to front.
Have a clear range of motion path for your arm to clear past your hips and legs.
Swing your arm in a bowling like motion.
Contact the ball below your waist.
Follow through and direct your finishing stroke to your target.
Get into ready position behind the baseline and wait for the return of service.
Serve with purpose and accuracy striving for 100%.
KEEP IT IN!
Take note:
The follow through motion of the serve has no baring on the service definition.
Contact point and paddle position are the only concerns.
---
Journaling Game and Practice Sessions
Journaling is a great way to monitor your progress on your pickleball journey. Many top athletes in various sports journal. Some call it a diary but what ever you want to call it, you can keep a log from your feelings of how you did, statistics on how you play, motivational thoughts to technical skill accomplishment or goals. Journal writing has many benefits from organizing your life, overcoming circumstances, setting life and pickleball goals to just clearing your head of the junk we carry with us.
​Journals are personal and are you. Using a paper journal, online app, blog or a word processor, keeping a record of your thoughts, fears, dreams or whatever, you can clear your mind and move more freely forward. Unclutter your surrounding world as well as your mind can make room for you to excel, expand and explore the more of the world around you.
​Here is an
interesting site
. Nothing to do with pickleball but helping us to clear our space out and make life simpler so we can achieve the goals in our life.
​
Getting to the Net
Getting to the net is vital but at what cost? Let's say you are the returning team and you are in reception formation with one partner up close to the NVZ line and the other is ready to receive the serve.
​ First, let's decide if you the receiving player are mobile and a quick fleet-footed player or are you slower and not so mobile with limited mobility deficits?
​ Let's look at the first fleet-footed player. They have the ability to hit a sharp or hard drive to any location of choice and can get to the NVZ line quickly before the serving team has a chance to set and return their third shot. This is great if the returning player can be set, and in line with his/her partner at the NVZ line and be ready for the return drop or hard hit by the now offensive attack team. BUT.. if the in the second case, the return of service player is less mobile and slower footed their hard hit driving return to the serving team in waiting will be returned quickly as well and leave a 'GAP' between them and the net. This 'GAP' can be the BLACK HOLE of disaster. A well-placed drop shot can cause havoc. The return team partner may have to poach more than expected to cover the drop leaving his/her sideline vulnerable to attack or the returning slow-footed return player will be on the move with the paddle in a low position to scoop the ball up. This scoop will most likely be a poor percentage shot which will cause the ball possibly to float or rise higher than a well-placed dink or lob. Thus, leaving the ball up for a smash back to the receiving team.
​ Now let's look at the slower possibly less mobile returner. Remember the harder he/she returns it to the serving team the less time they will have to get to the NVZ line. So now the serving team places a drop shot in the kitchen and our slow foot person as stated earlier still trying to get tot he NVZ line has created the BLACK HOLE, right?
​ What can they do to stop this from happening? Think, I move slow so, I'll make them wait for me. Return the ball with a slower semi-lofted deep return to a backhand placement or the safe middle Zone d8 of the backcourt or Zone A, or also identified as the RED zone. Hey they have to wait for the bounce, don't they? So while they are waiting for the return bounce for their third shot attempt, you the slower moving player, have more time to get to the NVZ line to set and be ready for their best shot.
​ Why make things more difficult? Statistics and percentages tell us that this is the great option not only for the slower moving player but works great for the fleet-footed as well. Make the other team wait for their third shot attack. This wait time may just rush them into a poor location shot.
​ You have the ultimate decision in play. Fast or slow, low or high whatever you choose remember you are choosing for your team.
​ Make your returns with purposeful placement direction, speed, and loft to most benefit your skills as well as your partner. You'll get to the net but how do you plan on doing it? With an out of control running into the fire mentality or with a controlled and purposeful plan of action and ready to make the fourth shot put a way or set up.
​ Keep it simple and play it smart. Try it next time for awhile and add new weapons and strategies to your pickleball game.