>

>

NOOK: Pickleball CPR - Coaching Pickleball Readiness (.epub file)
NOOK: Pickleball CPR - Coaching Pickleball Readiness (.epub file)
SELECT THIS PRODUCT FOR NOOK or .epub DEVICES.
Pickleball CPR Drills - Coaching Pickleball Readiness eBook. In this edition, you'll learn how to view the court in a unique and simple way to teach or work on specific placement of shots. Have multiple-skill drills and activities at your fingertips.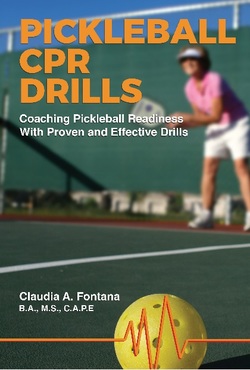 Pickleball CPR Drills - Coaching Pickleball Readiness eBook.
Practicing in sports is so important and pickleball is no different. With over 120+ drills at your fingertips in an easy to read format. You'll have access to drills from a one player skill to multiple-player skill drills in one round of drilling. Learn how to make and use teaching tools that will assist you in demonstrating skill techniques to your students and how to make practice more fun, organized and efficient in large group clinics.
​ Drills for pickleball have never been easier to access. No more asking around or trying to convert drills from other sports. I have done that for you. ​From common drills that you see every day to the highly competitive cooperation drills that take teamwork and focus to successfully complete the drill.​Improve your game by practicing with a PURPOSE using the PB9/13-GRID. Don't just hit it to get it over the net, hit it with direction and a purposeful meaning.
​ Practice like a pro with proven and effective drills designed especially for pickleball.
​ I've been teaching physical activity and sports for over 35 years. Working with students with special needs in wheelchairs to the varsity athlete in interscholastic competition. I've become passionate about pickleball and have put together a collection of highly effective and useful drills. Find out yourself and watch your game improve in a short time.
---