Don't miss out, we are filling up.
Registration DEADLINE.
March 5, 2018 your Initial $500 deposit will be due.
Final payment/balance will be due by April 5, 2018.

Your pickleball Costa Rica Trip is here!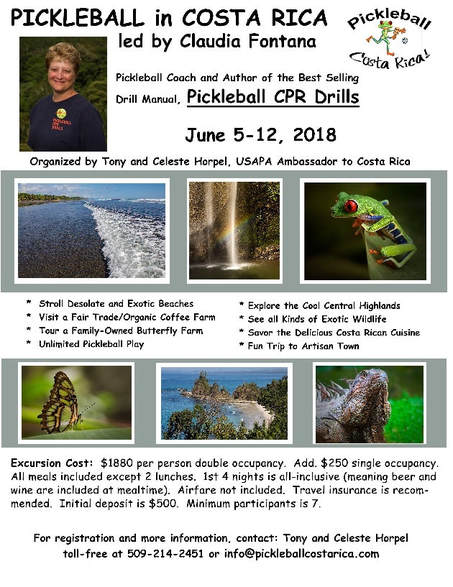 Join me and many other pickleball players in this amazing Costa Rican Adventure. With your days completely planned with food, friends and pickleball you'll see Costa Rica from the beaches to the Highlands in the event filled travel extravaganza.
​ We'll arrive in San Jose and travel to the sunny beaches of Punta Leona. A beautiful resort area along the Pacific Coast line that will be primed for great pickleball play as well as some amazing photos.
​During your stay here we'll have some pickleball drill and clinic times as well as some friendly and competitive pickleball play during the week. You'll still have time to explore the exotic beaches, the flavorful food of the land and share in the company of fellow travelers during some of the planned cultural adventures. You can visit the area shops along the beach coast road or venture off on a zip-line canopy tour if you're up to it.
​ The second half of the trip will take us to the Highlands and in some of the greenest parts of the world you've ever seen. We'll be staying in the San Ramone area, with more pickleball planned and more adventurous activities as well. You may possibly see a Macaw in the trees, flocks of parrots flying in the low lands, and even hear the howling monkeys from afar. From lizards to Toucan's anything is possible on this trip.
So, come join me and the other pickleball travelers as we visit this most blissful and amazing part of the world. Space is limited, and you'll want to be a part of it all. So, get your reservation and spot reserved for Costa Rica today. The weather is like a warm spring day in the highlands and the beaches, well they are the beaches, sun and fun. Pack your paddle, sunscreen and good time attitude as Celeste and Tony Horpel share and show off the sights and sounds of Costa Rica.

​Contact Tony and Celeste Horpel
toll-free at 509-214-2451
​for more information.
---
| | |
| --- | --- |
| Click below to download the flyer.. Tell your friends and pass it along. | Get your registration information and registration! |
We are booking up fast. Don't wait to get your spot
​If you are planning to join the tour in June you should strongly think about getting your deposits in soon and definitely before MARCH 5th which is three months in advance. Any registrations after this date will be a PAY IN FULL.
​All balances for the trip will be due by April 5th.
​All requesting registration after April 5th will need to check with Tony in regards to availability.
Don't forget your PASSPORT. Check now to be sure it current. Don't wait!
TIME TO BOOK YOUR FLIGHT
Plan on CLEVELAND DEPARTURE TIME OF 6:00 AM
​GET YOUR TICKETS SOON>> It's a popular time to go there and flights fill up fast
​
FLIGHT TIME
​There are several ways to get to Costa Rica and if you are joining us from various parts of the country here's some info you'll need to know.
​The first leg of our Costa Rican trip will be an hour and half bus ride to the beach resort from the SJO airport. With that in mind we would like all our travelers to get to San Jose, Costa Rica Airport as early in the day as possible. We can then all wait for the others as they arrive and hope that we all arrive as close as possible, if not on the same flights, and collect our group to travel to our first destination.

AIRLINES
​These are the airlines I have recently found either as connecting or non-stop trip:
​American, Delta, JetBlue, United, Spirit, and Copa Airlines. All are reputable and have a variety of choices. Remember baggage costs extra on some of the economy lines. Some of these airlines go non-stop through and others have layovers, so choose wisely. I wish I could charter a plane but not this time around.. :)

​LAYOVERS
​There are several airports that depart to SJO airport from the USA and where most of us will be waiting in laying over until we depart for San Jose. Those include Fort Lauderdale FLL, Atlanta ALT, Houston IAH, and Miami, MIA if you are traveling from the east coast region. West coaster most-likely the same.

​LAYOVER TIME
​​You will want to watch your layover time in each of these airports as well as the TOTAL TIME OF TRAVEL when starting to book your flight. Look for the least amount of layover time.
​At best the entire trip should be between 6 - 9 hours of travel including layover, if you are looking for the shortest route. Be sure to watch this carefully. Many flights have long layovers at these airports and add to travel time and in many case can be as long as 15-24 hours in total travel time. So, look for short air time to Costa Rica and back to the USA.
​The hardest part of this adventure will be the arrival timing of all participants in the SJO airport.
​Ideally getting to the San Jose Airport SJO before 4pm would be ideal. Traveling after 6pm puts us in CR a bit later than what we would like. Traveling by bus in daylight is much more preferable to see the landscape of this beautiful country along the way to the beach resort.

​ARRIVAL PLAN
​The earlier the better. If you are traveling with a companion book your tickets as early as possible and arrive as early as possible in SJO. Flight costs are flexible and are averaging between $450 - $700 depending on the flight accommodations you are looking to book with.

FLIGHT ​INSURANCE
​GET IT! for the $20-$25 it's worth it JUST in case something should come up to spoil your best laid plan. Don't take a chance on that happening to you.​

​CAN'T WAIT
​I look forward to meeting and greeting you in Costa Rica or possibly before. You can always contact Tony for more information about the actual adventure in Costa Rica. Soon as you book contact me as well and get your bags ready for a pickleball adventure to remember.