ALWAYS HAVE A PURPOSE​

Always have a purpose with shot placement to prepare for the next attack.

Have a reason for your shots. Don't just hit to defend your court, Hit to set up your next attack

Example situations:

When Dink play at the net is steady and rhythmical.
Change the pace by attacking with a Lob to opponents Zone A. Trying to catch them off guard to set up new attack strategy. Be sure it's High enough out of their reach and will move them back off the net.
Third Shot Drop. "THE" shot of Pickleball. If executed well your team will get to the NVZ that much quicker and prepare for the next attack.
Lob to Zone o8 when appropriate. This will push your opponent back off the net and may cause confusion between them on who will return the ball.
Keep the Serving team "OFF" the net by hitting deep shots to the baseline or Zone A.
You are off balance and need time to set: hit a well-placed lob deep in the opponent's court to give yourself time to reset. Aim for the corners if possible. But KEEP IT IN!
If you're not getting to the NVZ fast enough after receiving a serve: Return the serve with a slow pace medium to high lob. This way you can get to the net while the ball is still in flight or is 'just' taking the bounce on the floor.
Dink cross court to move the opponent out of position to 'set up' an offensive attack on your next play.
Hit to the backhands. Placing shots to the backhands of your opponent may put the opponent in a weaker stroke position.

Spiral Bound Book $19.95
​FREE SHIPPING ​
​ On your first book.
​Get Your Copy TODAY!
​Give the gift that keeps on giving ALL year long.
​​​​Offer only applies to online purchase from this site only.
---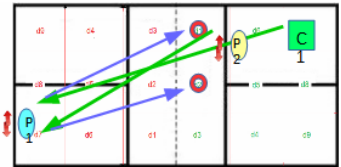 THE PB9 and the PB13 Advanced Placement Grids
EVERYBODY'S BASIC FAVORITE
WARM-UP DRILLS
HEAD ON DINK/VOLLEY RALLY
Continuous controlled dinks or volleys across to partner into NVZ.
Set a goal number or time limit. How many consecutive dinks or volleys can be hit to your partner.
P1 Dink to P2
P3 Dink to P4
Options: Backspin, sidespins, backhand forehand.
Specify stroke isolation. ie. backhands only, forehands only

Pickelball Hot links 2

---

CROSSCOURT SWEEPS
Continuous controlled cross court Dinks to partner into the NVZ. Keep the shots from traveling past the net post.
P1 /P3 hit low cross court forehands to
each other move with the ball.
P2/P4 hit low cross court backhands to each other move with the ball.
Switch and repeat spots to perform opposite direction. P1 replace P4 and P2 replace P3.
Options: Back spins, sidespins, flicks

ERVE IT OVER
Standing in service area players will practice serving cross court to each other. Stop and catch and then repeat.
P2 to P4, P1 to P3
Repeat for a time limit or number of consecutive serves IN.
OPTIONS: Serve from various spots along the end line. Serve with spin. Serve to specific target on the opponents court.


---
---
SAMPLE DRILLS
​ In the first drill below drill, the Coach (C1) is in Offensive Zone 7 hitting to the Player (P1) at the NVZ line in the defensive Zone 3. I know, it looks like zone 4 but actually in my diagram the NVZ or Kitchen line is in, what I have designated as Row C, which contains the zones defensive and/or offensive zones 1, 2 and 3. The thin red line is the zone line 'not' the NVZ line.

As the coach delivers drop shots from Zone o7 the player's target is offensive Zone o1 across the net. The player has options in this drill and it would be the second arrow and attempt to hit a soft shot close to the line. In addition to this basic drills described are options that the coach or player can play off of. You always can move the coach or player to fit your needs.

All of the drills that are being designed are actual shots that happen during a game.

The book Pickleball CPR Drills -- Coaching Pickleball Readiness , includes many drills from dink, drops, lobs, overhead attacks, basic strategies, footwork, suggested workouts and more.

This PB9-GRID concept was designed to assist in drill development and player/coach communication both during practice time and during match playing strategies.
There is nothing else like it out there for pickleball. Most coaches will teach using terminologies such as; Even side or Odd side of the court as they have been related to tennis. Which is understandable, but to get to the next level in any sport, players have to have a more specific purpose, targets, and strategies, as they make their game-plan for the next opponent. By using these identified zone locations in various forms, the communication between player and coach can be more specific.

​ In the book you'll get a more detailed explanation and understanding. It's not rocket science it's just a form of on court communication.

The PB9-GRID is simple to understand and in the book "Pickleball CPR - Coaching Pickleball Readiness" you'll get multiple drills that can be immediately executed. With easily read and illustrated diagrams a coach or even players practicing together working on specific aspects of the game can quickly get on the court and drill .

Pickleball CPR Drills will give you pickleball drills that you don't have to think about. Pickleball drills that are easily read and ready-to-use immediately. Included with each drill there will be modifications and options so you can quickly add to the practice drilling process or change the pattern of play.

Above are just a few more samples of the drills in the book.
Spiral Bound Book $19.95
​FREE SHIPPING ​
​ On your first book.
​Get Your Copy TODAY!
​Give the gift that keeps on giving ALL year long.
​​​​Offer only applies to online purchase from this site only.